Evening,
Well I thought I would post some illustration work tonight versus more interactive stuff (interactive will be a later post). My true love is and has always been illustration, some news to announce which is really cool, my work has been featured in both AI-AP Illustration 27 and the 2008 HOW promotional Annual this past year. The interactive poster I made this year, that got me into the HOW Awards Annual, had doors that swing open to reveal artwork under neath the other images also laser die-cut designs as well. It was a huge hit here in Minneapolis and all over the states. Along with this post I redid the branding for HAM with some really fun illustrations in my new breath of style and feeling. Hope you all get a kick out of them.
HAM Holiday Poster 2008:
Also a picture taken from a Poster show. My poster got to hang with fellow artist like James Jean and Tara Mc Pherson. The Show was hosted by College of Design in Arizona.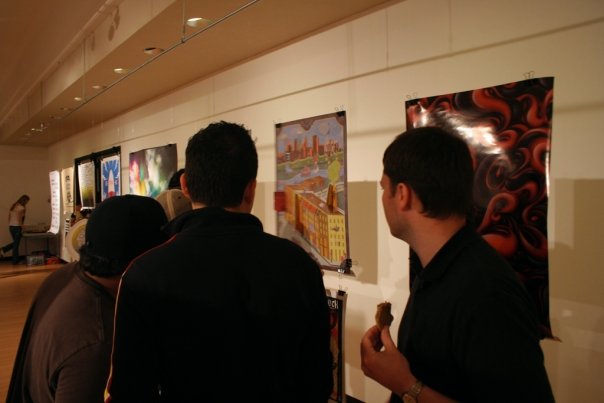 HAM Branding- Business cards and general illustrations for branding (the tank illustration along with the poster earned a place in AI-AP 27: